By
admin
Sony Xperia Z3 is just announced several weeks ago, at that time Sony released three devices, Xperia Z3smartphone, Xperia Z3 compact smartphone and Xperia Z3 tablet compact. The three devices has adapted latest hardware and software, so you can get better performance compared to its previous version. Sony Xperia Z3 smartphone equipped with Qualcomm MSM8974AC Snapdragon 801 chipset, runs Android OS, v4.4.4 (KitKat), planned upgrade to v5.0 (Lollipop), it is an excellent smartphone that worth to buy.
There are a lot of users have purchased Sony Xperia Z3 smartphone or tablet, most of them would like to transfer some high-definition movies onto Xperia Z3 for watching on the go, but they have encountered the issue to play videos on Xperia Z3 smoothly, because there are some video files can't be supported or recognized by the Xperia Z3, here is a video playback question asked by a Xperia Z3 user.
Xperia Z3 Video Playback Question:
"Can Sony Xperia Z3 play WMV files? I have some movies in WMV video format, and I want to watch enjoy during the trip, so I try to copy them to Xperia Z3 smartphone today, but I failed every time, it is said that the video format is not supported, can you share a solution to solve this issue. Please give me some advice, thanks!"
The question showed above is asked by a Sony Xperia Z3 user, many users have this kind of questions, they are caused by the video format limitation of Xperia Z3. If you check Xperia Z3's user manual or product page, you will know that only H.264 MP4 video format are supported by Xperia Z3, for other video files you will not be able to play them with Xperia Z3 directly, you have to convert them to Xperia Z3 best supported MP4 video format.
Xperia Z3 supported video format: H.264 MP4
Xperia Z3 best video format:H.264 MP4
How to convert movies or videos to Xperia Z3 best format?
In order to help you convert videos to Xperia Z3 best format for watching, here we recommend the best Xperia Z3 video format converter, this program is called Acrok Video Converter Ultimate, it's the best video converter on the market which can convert all the video files, such as blu-ray, DVD, MKV, WMV, FLV, MOV, MP4, VOB, TiVo, MTS, etc. So after you got this software you don't need to worry about any video playback problems. Please follow the link below to download the best video converter for Xperia Z3.
Free download video format converter for Xperia Z3
How to use Xperia Z3 video format converter on Windows and Mac?
1. Download and install Xperia Z3 video format converter on your computer, once you have this top video converter you can convert all your videos to supported format of Xperia Z3. Both Windows version and Mac version are available to use.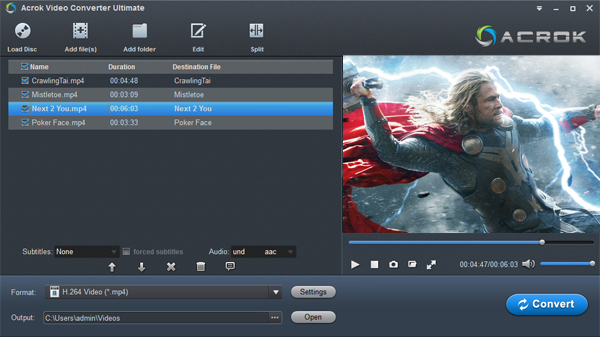 2. Launch Xperia Z3 video converter, and then you will see its brief main interface, please click add files button to import the videos that you want to transcode, such as AVI, MKV, FLV, WMV, M4V, VOB, TiVo, etc. You can also use it to rip Blu-ray to tablets and smartphones, such as rip Blu-ray to iPad Air 2.
3. Select a video format for output. We recommend you to choose MP4 as output format, because it is Xperia Z3 best video format, and it is compatible format for Android tablets and smartphones.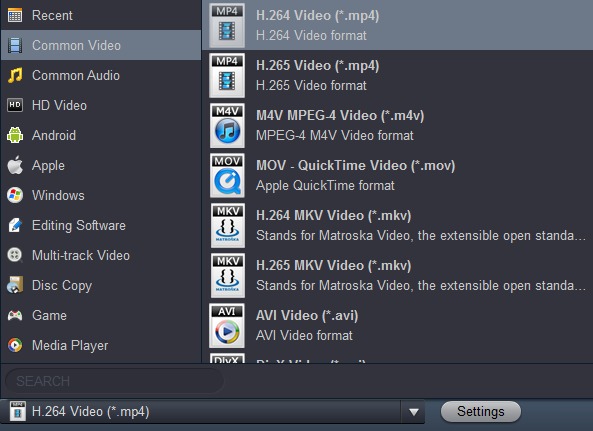 4. This Xperia Z3 video converter has powerful customization feature, you can adjust the settings before convert video to Xperia Z3, just click settings button on the main interface and then adjust the resolution, bitrate, codec, frame rate or others as you want, this step can also be skipped.
5. Press convert button to start converting videos to Xperia Z3 supported video format.
The Xperia Z3 video format converter will begin the conversion immediately, please wait some time to let the software do the conversion, it won't take much time because NVIDIA CUDA and AMD APP acceleration is supported, when the conversion finished, you can transfer converted videos into Xperia Z3 through USB cable, and then you can watch movies on Xperia Z3 with supported video format.