Do you need to convert Olympus camera recorded MOV, AVI, and AVCHD video files? In this article you can get the best Olympus Video Converter, which can convert Olympus MOV/AVI/AVCHD videos to compatible format for FCP X, iMovie, Adobe Premiere Pro, smartphones, tablets, etc.
Olympus cameras are very popular in the camera field, it has a few of fans, and a lot of Olympus cameras have received high rates in the reviews, have you got a Olympus camera? Many people around us have bought a Olympus camera, they use it to take high resolution photos and high quality videos.
In recent years Olympus has released some striking cameras, such as Olympus OM-D E-M1, E-M10, Stylus 1, TG-3, SP-100, etc. besides taking photos with Olympus cameras, you may also use them to record full HD videos, the Olympus cameras can help you to record vivid footages. After you record videos with Olympus camera, you may also want to edit video files with FCP X natively, or convert Olympus videos to other formats like H.264 MOV, in this case, an effective video converter for Olympus will help you.
"I have used a Olympus camera which records videos in AVI format, I need to convert the footages to apple prores codec MOV format so that I can edit them in final cut pro X natively, can you recommend a video converter that can convert Olympus files to FCP X supported apple prores format? Thanks!"
In order to help you convert videos recorded by Olympus cameras, here we recommend a powerful Olympus video converter for you, the program is Acrok HD Video Converter for Mac, with this wonderful software, you can convert Olympus cameras recorded MOV/AVI/AVCHD video to any formats you need, such as convert AVCHD to FCP X Apple ProRes codec MOV format, or convert video to DNxHD codec for Avid Media Composer, AIC codec for iMovie, H.264 MP4, MPG, FLV, etc. it will help you to solve any Olympus video compatibility issue.
How to use Olympus video converter?
The operating of this Olympus video converter is very easy, you can get your Olympus MOV/AVI/AVCHD files converted to the format you need in few steps. Now we have prepared the easy steps to use this Olympus video converter on Windows PC and Mac, you can follow the steps to convert Olympus files to any formats you need.
1. Free download Olympus video converter Windows version or Mac version from our website, install this program on your computer, run it as the best Olympus video converter.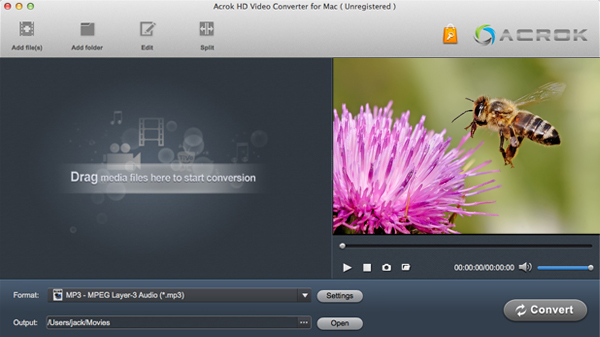 2. After you launched the Olympus video converter you will see its brief main interface. Now you can click add file button to load your Olympus clips, you can also directly drag and drop the footages. Batch importing and converting is well supported by this Olympus video converter.
3. Click format bar to choose output video format. There are a lot of optimized formats in the list, you can choose anyone you need, such as apple prores codec MOV format, which is best native format for FCP X, so you can convert Olympus recorded files like AVI to FCP X Apple ProRes codec.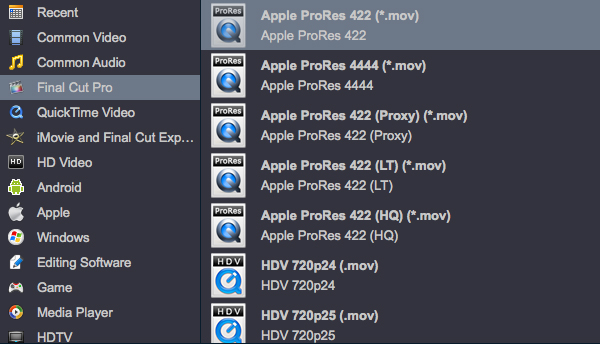 4. It is available to adjust the output parameters in the "settings", you can modify the resolution, frame rate, bitrate, etc.
5. The final step is to press the convert button on the main interface of Olympus video converter to start the conversion.
This Olympus video converter will convert Olympus MOV/AVI/AVCHD video files at fast speed, just wait some time, when the conversion process is finished, you can use the converted videos as you want. Now you can take a free try on this best Olympus video converter, hope this program can help you.
Supported Olympus cameras include:
Olympus OM-D E-M1, E-M10, Stylus 1, TG-3, SP-100, PEN E-P5, XZ-2 iHS, OM-D E-M5, PEN E-PL5, PEN E-PM2, E-5, etc.